Marx - Wyandotte

Email 1936sedan@sbcglobal.net
Phone 281 482 6334 10am to 10pm central time

---
This page last updated 7-07-22
BACK TO MAIN PAGE
---

The Marx Toy Company was started in about 1921. They made almost any type of toy you can think of except of dolls.
In 1972 the company sold to the Quaker Oats Company and they sold to Dunbee-Combex-Marx in 1976, the company went out of business in 1980.

Wyandotte Toys "All Metal Products" began in 1921 and were well known for toy guns, pressed steel toy vehicles and airplanes. The company went out of business in 1956.


---
For more informaion or to purchase any toy on this page, go to thebottom of the page
If you pay with PayPal please add 3% to the total

---
---
---
MARX-WYANDOTTE #1
$.00 Each plus shipping.

---
.
MARX - WYANDOTTE #2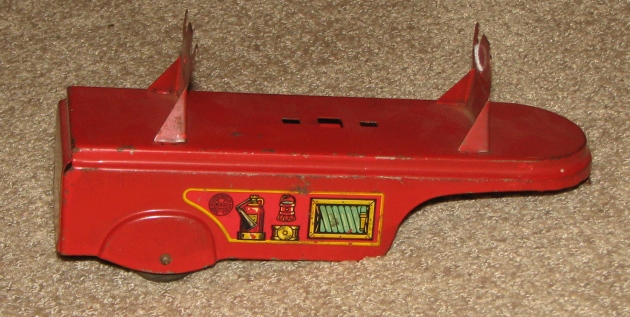 Marx Fire ladder trailer. Late 1940's about 8.5" long



* $20.00 plus postage




---
MARX - WYANDOTTE # 3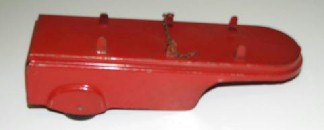 Marx log trailer. made in late 40's has original chain. About 8.5" long

* $20.00 plus postage

---
MARX - WYANDOTTE #4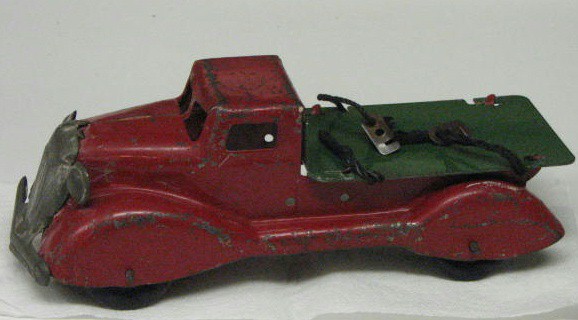 ---- Marx 9" 1930"s? log truck. All original with the original tie downs. This is the only Marx truck like this one I have ever seen.



$90.00 plus shipping

.



---
MARX - WYANDOTTE #5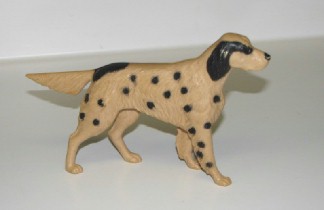 ----

M

arx plastic dog.

The dog is about 7 1/2" long.



$20.00 plus shipping.


---
MARX - WYANDOTTE #5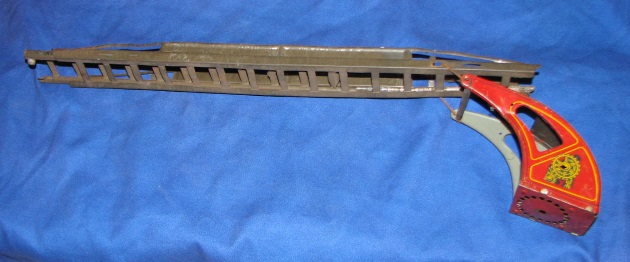 --- Original firetruck parts



$10.00 plus shipping.



---
---
---
Below are pictures of a few of the Marx and Wyandotte toys I have sold


---
---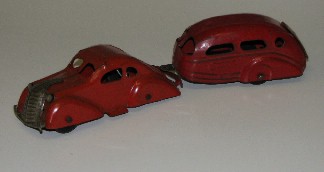 --

--

WYANDOTTE

CAR AND TRAILER . The car is more orange than the trailer, but that is the way I got the set.
They are much nicer than they show in the picture.


---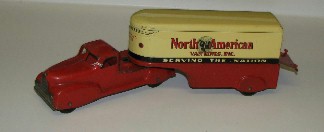 ---

- 1930'S?

MARX NORTH AMERICAN SEMI.

THIS IS A NICE ONE. THE CAB IS A 8.5 AND THE TRAILER IS A STRONG 9 IN CONDITION.


---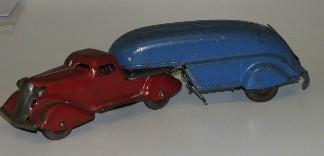 --

--

MARX

FUEL TANKER SEMI.

Very hard truck to find.


---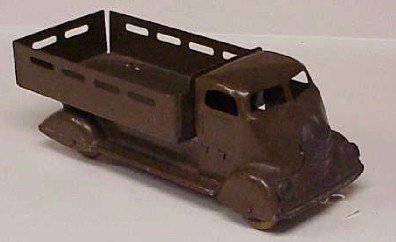 --

-- MARX ARMY TRUCK 1930'S. ALL ORIGINAL. THIS IS AS NICE AS THEY COME.
---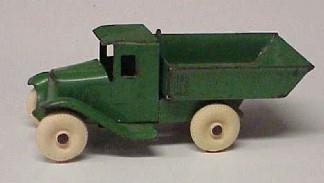 ---

-- GIRARD DUMP TRUCK. 5". REPLACED WHEELS OTHERWISE VERY NICE.


---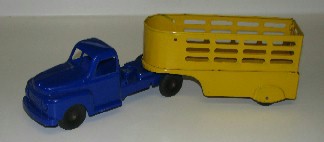 --

- 1940'S MARX SEMI THIS TOY WAS NEVER PLAYED WITH. THIS IS THE YEAR THAT MARX RAN OUT OF METAL CABS AND SENT THE TRUCKS OUT WITH THIS PLASTIC CAB.
---
---



All toys on this site are guaranteed as described.


If you buy a toy and it is not as described just email me in 3 working days for information on how to return.


All you ever risk when buying a toy from the "Texas Antique Toy Collector" is the cost of shipping the toy back.


Money orders from the US Post Office prefered but I will take PayPal if you add 3% to the total.

Buyer pays shipping, insurance and tracking plus $1.00 for packing materials.


Go to my "Main page" and click on "wanted to buy" to see pictures of some of the toys and Daisy BB guns that I would like to buy.

I thought I was finished collecting but a new spark hit me and I do still buy a few toys and bb guns

I am not a business or a dealer. I am just an old retired guy selling off some of my 30 year collection, a few toys at a time. What I do not sell will go to the grand kids.

I have been buying and selling on Ebay for a number of years as "1936sedan" and have over 480 100% positive feedbacks.




Thanks, Bill


email me at 1936sedan@sbcglobal.net


Call me at 281 482 6334 10am to 10 pm CST. If I am playing Golf, or watching one of the Grand kids playing ball, leave a message and I will call you back.




---
---